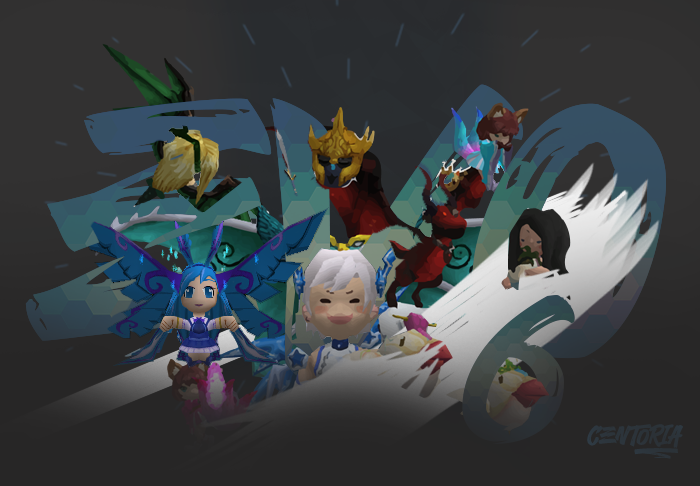 Update 6th Pet Evolution adalah salah satu update memperingati ultah Centoria yang ke 2.
Namun perlu diperhatikan, hanya pet-pet dari Seed, Piya, Bird Egg, Heaven Egg, Tailed Wisp, Black Dragon, Mandra Seed dan Golden Dragon Egg yang bisa dievolusi ke-6.


• MATERIAL EVOLUSI
Material evolusi ke-6 berbeda dari evo biasanya;
Evolution Rock
Evolution Gold Carp
Evolution Bone Fragment
Evolution Talisman
Evolution Mitril
Evolution Bread
Evolution Meat
Evolution Blood
Evolution Rose
Evolution Blessing
Kamu bisa mendapatkan ke-10 item-item ini dari:
* Lucky Box (Normal) : Dapatkan salah satu dari material evo pet 6th di Lucky Box Normal
* Luna's Luxury Surprise Chest : Dijual di webshop seharga 20.000 Cent/50 CP, akan mendapat 2 item sekali membuka chest
• STATUS 6TH PET
Kamu bisa melihat opsi dari Pet Stage 6 pada link berikut: https://bit.ly/3zbGiWY
*Note:
- Kamu membutuhkan minimal Fame Greenhorn (51.595) untuk bisa menggunakan pet ini
• NEW NPC RIN
Kamu bisa menukarkan 3 pcs Evolution Material yang tidak terpakai menjadi material lain lho.
Berbicaralah kepada NPC Rin yang ada di dalam Item Shop di Kota Elim.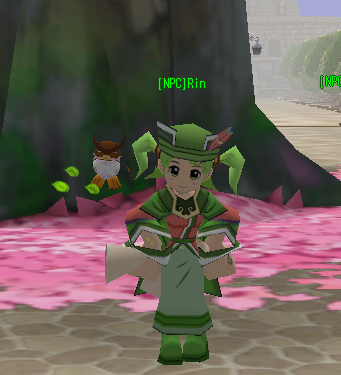 Setiap penukaran, NPC Rin akan menarik 3.000.000 Cegel, pastikan kamu mempunyai cukup Cegel di Inventory. Berbicaralah ke NPC Rin, pilih 'Exchange 6th Pet Evolution Material' lalu pilih Item apa yang ingin kamu tukarkan, setelah itu pilihlah item Evolution mana yang ingin kamu peroleh.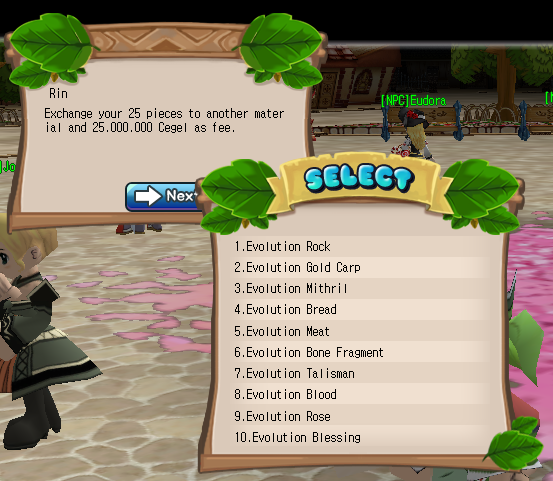 Misal kamu punya banyak Evolution Meat, ingin menukar ke Evolution Blessing.
Pilihlah Evolution Meat lalu pilih Evolution Blessing setelahnya.
• TABEL EVOLUSI PET 6TH
Berikut adalah table evolusi dari pet Seed, Piya, Bird, Heaven Egg, Tailed Wisp, Black Dragon Egg, Mandra Seed, dan Golden Dragon Egg.
* Seed
Black Rose
Halloween Pumpkinsto
Sunflower
Sergeant Beanie
Young Moo Moo Prince
Rich Beanie
Fairy Male Dryad
Fairy Female Dryad
Dryad King
Dryad Queen
* Piya
Sage Piya
[Another World]Berserker Piya
Great General Piya
[Another World] Super Piya
Big Chicken
Burning King of All Chicken
Burning Queen of All Chicken
Burning Demon King
Burning Demon Queen
* Bird Egg
Hot Blooded Detective Bat
Raven
Bubble Dragon
Dr.Boo
Crackle
Together Forever
Mir
Blue Mir
Fenghuang
Blue Fenghuang
Lady Mir
Queen Mir
* Heaven Egg
White Knight Valkyrie
Black Knight Valkyrie
Devil Valkyrie
* Tailed Wisp
Ghost Flame Kitsune
Crimson Flame Kitsune
Fox Flame Kitsune
* Black Dragon Egg/Golden Dragon Egg
Dark Dragon King
Hell Flame Dragon King
Golden Dragon King
* Mandra Seed
Black Mandagora
White Mandagora
Pink Mandagora
• NEW!! Leaf of Evolution
Memperkenalkan item baru untuk mengevolusi pet Stage 6th: Leaf of Evolution. Kamu bisa beli Leaf of Evolution di Webshop atau hadiah dari Lucky Box atau Golden Chest.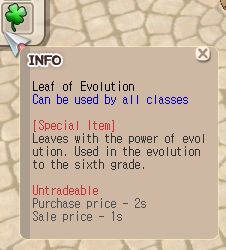 Bawa Pet stage 5th kamu dan Leaf of Evolution ke NPC baru Han Jiyoo di kota Sevis. Han Jiyoo akan menukarkan Pet stage 5 (+9) kamu dan Leaf of Evolution menjadi 6th Evolution Box.
Buka 6th Evolution Box dan kamu akan mendapat pet stage 6th sesuai tipe pet yang kamu tukarkan.
Semoga dengan update ini mempermudah kamu mengevolusikan pet ke stage 6.


Demikian Update Pet Stage 6.
Good luck, Centorians.

Centoria Team